Welcome to our 87th Season! ESYO's first online rehearsals were met with wonderful enthusiasm from conductors and students alike. Conductors Lauralie Kallinen and Dale Bradley created an online musical experience appropriately suited for the eager members of the String Academy 2. Professional coaches worked with smaller groups, sharing their musical knowledge with students. These budding young musicians performed for each other, and inspired us all with their playing. 
Next year we hope and plan to be back in person – and you can be a part of it! String Academy 2 (SA2) is the perfect "first orchestra" for students who have taken String Academy 1 classes, or for any student with one year of strings instruction. And it's FUN! There is no audition required. If you would like more information, please call 541-484-0473 or email office@esyorchestras.org.
Congratulations on your 2021 Spring Finale Concert!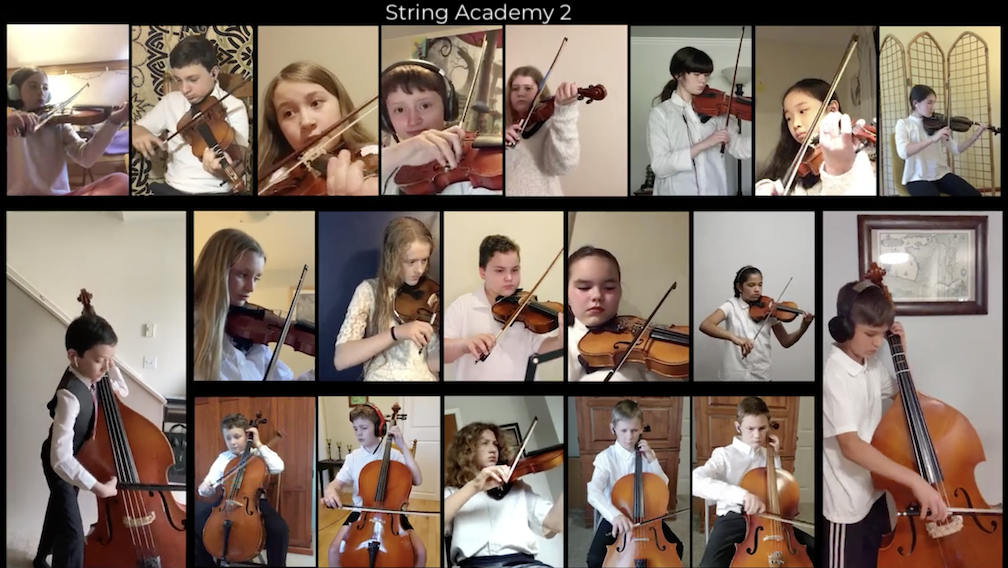 SA2 program fee is $310 for the year, and $90 for instrument rental, with payment plans available. Scholarships for program fees or instrument rentals are available to any family that qualifies. Application included in registration.
String Academy 2 South: Mondays, 4:30-6:00pm with Lauralie Kallinen
String Academy 2 North: Tuesdays, 4:30-6:00pm with Dale Bradley
Students receive individual attention and instruction specific to their instrument, while learning how each section of the orchestra fits together. The music is challenging enough to hold their interest, but accessible to give everyone a successful experience. It all adds up to an exciting, educational, and rewarding season of music-making! Be sure to subscribe to the google calendar below and check regularly for rehearsal and concert updates.
TO REPORT AN ABSENCE: If your child is ill, or there is a family emergency, please email the registrar at sa2northregistrar@esyorchestras.org or sa2southregistrar@esyorchestras.org . Registrars are responsible for taking attendance, answering questions, and helping your child feel comfortable during rehearsal.