Winter 2023 Concert Coming Up!
Wednesday, February 22nd at Grace Community Fellowship at 7:00pm
JOIN US and support these wonderful young musicians!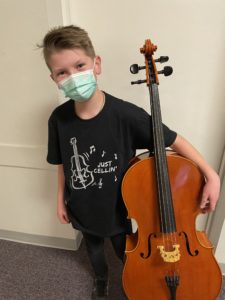 String Academy 2 (SA2) is the perfect "first orchestra" for students who have had at least one year of strings. Many SA2 students graduate from our first-year strings classes (String academy 1) – no audition is necessary, but it's important that students know how to read music. For instance, they should be able to play comfortably mid-way through Suzuki Book 1 or Essential Elements 1.
Students receive individual attention and instruction specific to their instrument, while learning how each section of the orchestra fits together. The music is challenging enough to hold their interest, but accessible enough to give everyone a successful experience. It all adds up to an exciting, educational, and rewarding season of music-making! See below for more information.
2022-23 SEASON INFORMATION – NEW NAMES, NEW LOCATIONS
There are two groups to choose from depending on the day of the week that works best for you. Monday SA2 and Tuesday SA2 each meet in different locations to accommodate as many families as possible.
Monday SA 2: Mondays, 4:30-6:00pm conducted by Lauralie Kallinen Kelly Middle School, 850 Howard, in the band room. Entrance is from the side parking lot on N. Park Ave.
Tuesday SA 2: Tuesdays, 4:30-6:00pm conducted by Dale Bradley
Wesley United Methodist Church, 1385 Oakway Rd. Entrance is from the parking lot on Oakway, the door marked Office.
TO REPORT AN ABSENCE: If your child is ill, or there is a family emergency, you must contact your registrar. Registrars are responsible for taking attendance, answering questions, and helping your child feel comfortable during rehearsal. If a student does not come to rehearsal, your registrar will call you to make sure everyone is safe.
Monday SA 2 Registrar: Vera Erickson sa2mondayregistrar@esyorchestras.org
Tuesday SA 2 Registrar: Amy Foote sa2tuesdayregistrar@esyorchestras.org
The tuition for String Academy 2 is $350 for the full season, Sept-May. The lesson book is $10 (if you don't already have one), and instrument rentals are $100. The registration form includes several payment plan options. Scholarships for program fees, private lessons and/or instrument rentals are available to any family based on income. Application included in the registration. No audition is required for string players who have had one year of strings. For more information, please call 541-484-0473, or email office@esyorchestras.org.
Be sure to subscribe to the google calendar below and check regularly for rehearsal and concert updates.
** Congratulations on your final Spring 2022 Concert!
We continue to monitor the Covid-19 situation in Lane County closely and may need to go online if recommended. Safety remains our top priority, and we will continue to follow the state and local guidelines as they are updated. ESYO is committed to equity, diversity, and inclusion, and to providing a welcoming, safe community for young musicians of all backgrounds, cultures, identities, and abilities. Students will join other youth musicians from throughout the area to learn, grow, lead and PLAY!