Auditions for the 2023-24 Season
Thank you to all the fine musicians who auditioned for next season!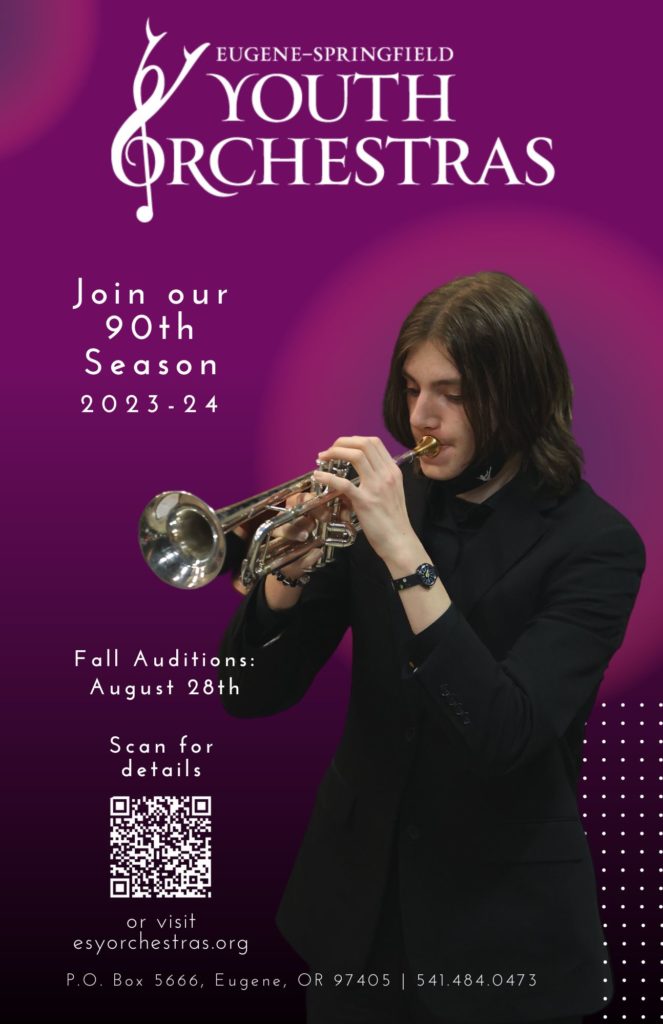 Auditions for selected instruments still accepted
Upper Orchestra auditions are open for percussion, string bass, trumpet, trombone, tuba, oboe, and bassoon.
CLICK HERE TO SIGN UP!
If you can't make that date, we will do our best to accommodate you. Contact us at: office@esyorchestras.org
Please read below for process and requirements.
Auditions are approximately 5-7 minutes long, and include a solo no longer than 3 mins., as well as scales and possibly sight-reading. See below for requirements, audition tips, and eligibility guidelines. Students should always prepare what best demonstrates their skills. Our goal is to place students in the orchestra where we believe they will have the most successful and enjoyable experience.
ESYO Participation Policies:
ESYO works closely in collaboration with local schools to support a well-rounded musical experience. We appreciate and value the daily instruction and rehearsal offered in school musical ensembles, which provides a wealth of benefits for student musicians. We strongly recommend and encourage all ESYO musicians to be enrolled in their school music program if one is available.
Attendance: Your presence at rehearsal is very important! Regular attendance is essential for maintaining the continuity and quality of your orchestra. Students may only miss one unexcused absence per concert set. Communication with your orchestra's registrar is the parents' responsibility.
Audition Steps:
Step 1 – Sign up for an audition online. The online forms have a place for day/time preference, but please be flexible!
Step 2 – Practice required audition materials – click here for a list. Prepare something that best shows your skills. Be sure to make copies for the judges.
Step 3 – Look for an email with your time slot and put it on your calendar.
Step 4 – Please arrive 15 minutes ahead of your scheduled time to make sure the auditions transition from one to the next smoothly. But don't arrive too early – there will be minimal warm-up space available.
Step 5 – Check in at the table and wait for someone to show you the warm-up room and/or your audition room.
Step 6 – When you enter the room, introduce yourself, and give the judge a copy of your solo. Announce the scales and solo you will be playing.
Step 7 – Look for results of auditions, which will be posted within two weeks of your audition.
Step 8 – If you are accepted into an orchestra, your registration materials will be available on the corresponding orchestra page on our website. These are due with your first payment.
Orchestra rehearsals begin Monday, Sept 18, 2023.
Thank you!
Remember: Auditions are not meant to stress students out! Prepare your solo and scales carefully, and you will be fine. Everyone is nervous, but our goal is to place each student in the ensemble that will give them the best musical experience.
CLICK HERE for TIPS and ADVICE!
Feel free to dress up a little for your audition. Although it is not required, it can help some students feel ready for a performance
Play music you are comfortable with and best displays your skills.
Practice your audition in front of family and friends. This can really help with nerves.
Introduce yourself and your selections before you play.
Please be sure to tell your musical friends and teachers about ESYO! We hope to see students from many schools and areas represented, and full instrumentation for all of the youth orchestras. If you have questions, your teacher is a great person to talk to about auditioning. To learn more about the different ensembles, please go to the Programs tab and read about them. If you still have questions about joining our orchestras, you can send an email to office@esyorchestras.org.
We will continue to monitor the Covid-19 situation in Lane County closely and will only require masks or move to online rehearsals if it is recommended. Safety remains our top priority, and we will follow the state and local guidelines as they are updated.