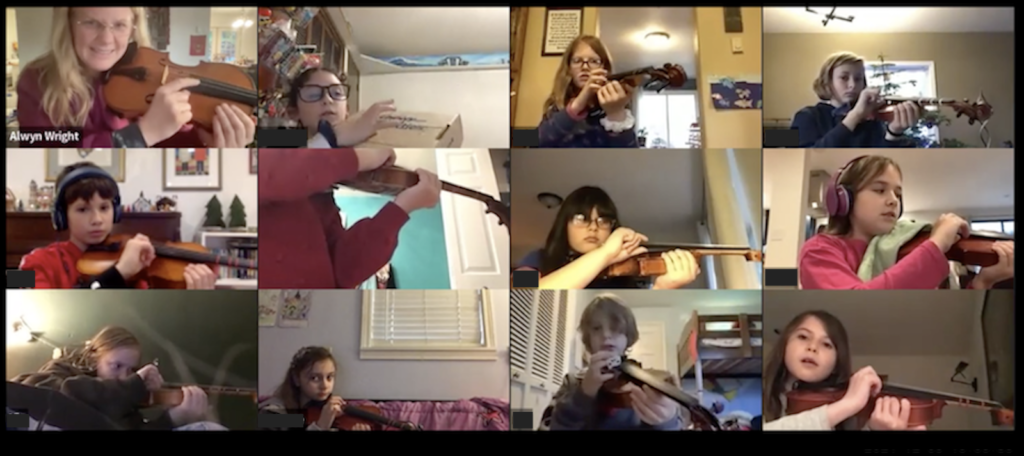 String Academy 1 is a fun and exciting opportunity for your child to learn to play the violin, viola, cello or bass! Due to the continued presence of Covid-19, we are not able to teach onsite at schools. So we are once again offering this wonderful program online! Last year we had amazing response to SA1 over Zoom. Teachers are experienced professionals with a passion for bringing the joy of music to young students. They keep students engaged and learning with fun and educational activities! 
Beginning online strings classes for 3rd, 4th and 5th graders in the 4J school district will start the week of November 8th. You can choose before or after school, Mon/Wed or Tues/Thurs with several time options. Classes are 45 minutes long. We provide the instruments for a very low rental fee – and scholarships are available for both program fee and instrument rental.
REGISTRATION DEADLINE: Nov 4th! Please use one of the links below, depending on your school. Please register by Nov 4th so we can assign classes and get started! Need-based scholarship applications are available as part of the registration form. Students will begin online without instruments, which will be distributed at a later date.
SA1 BEST REGISTRATION: This form is ONLY for students attending Chávez, Howard, McCornack, or River Road/El Camino. 
SA1 REGISTRATIONS for all other 4J elementary schools: If you do not attend one of the four schools listed above, please fill out this form.
Zoom Class times available either Mon/Wed or Tu/Th mornings 7:25-8:10am or afternoons 3:15-4:00pm or 3:45-4:30pm or 4:30-5:15pm

Scholarships Available! The program fee is $310 for the school year and $90 for instrument rental, as well as a book for $10 which students keep. We offer income-based scholarships for both, based on federal guidelines. We have a lower fee schedule for those attending schools which are part of 4J's BEST enrichment program. PLEASE NOTE: Our longstanding partnership with the 4J school district makes this program possible. Since we have limited capacity, registrations are currently open to 3rd, 4th and 5th graders attending a 4J school, as well as home-schooled students. We hope to invite students from other schools and districts if we have space.
Watch this FUN and MUSICAL preview introducing the instruments made by our wonderful String Academy instructors! 
* Highly-qualified teachers
* Need-based scholarships
* We provide the instrument!
Why does learning an instrument matter?
•  Children with music instruction score higher in spatial and arithmetic skills.
•  Students in orchestra have the lowest levels of use of alcohol, tobacco and drugs.
•  Music-making brings the family closer together!
Visit our YouTube Channel for many educational and fun videos to watch. 
Has your child already had a year of strings? Then you could be ready for String Academy 2!
Congratulations String Academy of 2020-21! Your online concerts were inspiring! Thanks for all your hard work – you did a GREAT job!