Welcome to our 88th Season! Little Symphony gives strings players with 2-3 years experience a wonderful opportunity to play in an orchestra. This is an auditioned ensemble, and students ages range relatively widely, generally from 4th-8th grade. The music is varied, so that all have enough challenge, and the most success!
** Little Symphony Winter Concert **


Thanks to the dedication and musicianship of the orchestra musicians and their conductor, the first live concert in two years was a tremendous success!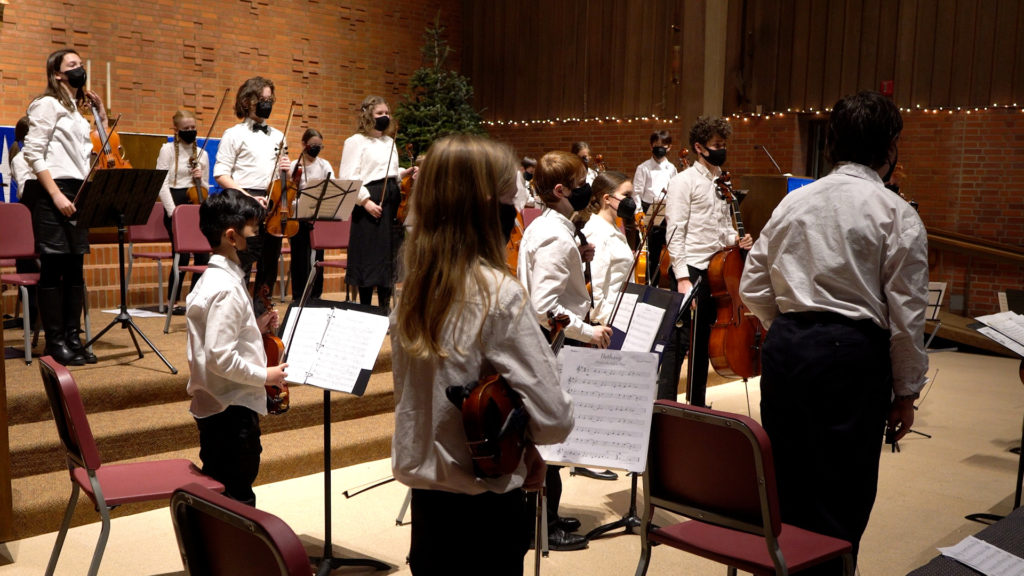 2021-22 SEASON – Rehearsing Together In Person Again!
We are looking forward to another wonderful year of music-making for our 88th Season with in-person rehearsals again! School buildings are currently unavailable to us so all orchestras will meet in a new locations for the fall.
Your conductor, Dale Bradley, will be glad to welcome you as part of this fine orchestra. He has designed a program of rehearsals and performances that will challenge students and showcase their accomplishments. Students work with the conductor and/or professional coaches on music for the whole orchestra, as well as individual sectional pieces. They receive individualized and instrument-specific instruction, and learn how each part works together. It all adds up to an exciting, educational, and rewarding season of music-making!
LS meets on Mondays from 4:30-6:00pm at Valley Covenant Church, 3636 W. 18th (across from Churchill HS) Students enter through the double doors on the east side of the building. Be sure to subscribe to the google calendar below and check regularly for rehearsal and concert updates.
Absences or Tardies: Please report all tardies and absences to the LS Registrar: Lynn Kane, lsregistrar@esyorchestras.org or 541-729-3865. If your child is late to rehearsal, the registrar will call you to make sure they are accounted for.
MUSICAL CHAIR SPONSORSHIP: If you'd like to sponsor your musician please click HERE! The sponsor's name will appear under the student's name in the program, just like the professionals. It's a great way for family members and friends to show their support!
Little Symphony (LS) is an auditioned string ensemble consisting of violin, viola, cello, or string bass players with at least 2-3 years of instruction and some orchestra or ensemble experience. The LS season includes 28 rehearsals, sectional coaching, two education and outreach concerts, and two formal concerts in December and May.
Scholarships for program fees or instrument rentals are available to any family that qualifies for the federal free & reduced meal program. Application included in registration. For more information, please call 541-484-0473 or write to office@esyorchestras.org.

We continue to monitor the Covid-19 situation in Lane County closely and may need to go online if recommended. Safety remains our top priority, and we will continue to follow the state and local guidelines as they are updated. ESYO is committed to equity, diversity, and inclusion, and to providing a welcoming, safe community for young musicians of all backgrounds, cultures, identities, and abilities. Students will join other youth musicians from throughout the area to learn, grow, lead and PLAY!