Welcome to the 88th Season of the second oldest youth orchestra west of the Mississippi!
The Eugene-Springfield Youth Symphony (YS) was created way back in 1934 by forward-thinking group of people who understood the value of music education for youth. Since then, it has grown and developed into one of the premier orchestra programs in the area. YS is now led by Dr. David Jacobs, also Director of Orchestral Studies at the University of Oregon. Dr. Jacobs is a superior conductor and passionate music educator who has brought the orchestra to a new level of artistry and sophistication. Our top orchestra includes the finest student musicians of Lane County, performing exciting concerts that feature outstanding soloists and demanding orchestral music – including during last year's online season.
2021-22 Season Update
** NEW LOCATION for Youth Symphony rehearsal starting Monday Oct 4th **
St. Jude Catholic Church, Parish Hall. 4330 Willamette, Eugene.
We are looking forward to another wonderful year of music-making for our 88th Season with in-person rehearsals again! School buildings are currently unavailable to us so all orchestras will meet in a new locations for the fall. 
YS rehearsals are held Monday evenings from 6:45-9pm. The program fee is $445 for the year, with several payment options and scholarships available.
Be sure to check the google calendar below for rehearsal and concert updates.
Reporting Absences to Your Registrar: Tricia Bevans, longtime LS registrar and ESYO alumna, will be your registrar this year! Her phone number is 541-515-0779. All absences and tardies must be reported by a parent or guardian by calling or texting Tricia or emailing ysregistrar@esyorchestras.org. Please do not call the office or the message may not get through to the registrar. Students are expected to arrive 10-15 minutes early so they are ready to begin at 6:45 sharp. One week notice is required for absences.
We are monitoring the Covid-19 situation in Lane County closely and may need to go online if recommended. Safety remains our top priority, and we will continue to follow the state and local guidelines as they are updated. ESYO 2021-22 Policies and Procedures document can be found HERE.
No matter what season brings, ESYO will continue to provide unique and valuable musical experiences for our youth musicians. This includes dedicated teachers and conductors, professional sectional coaches, workshops, outreach opportunities and educational extras. ESYO is committed to equity, diversity, and inclusion, and to providing a welcoming, safe community for young musicians of all backgrounds, cultures, identities, and abilities. Students will join other youth musicians from throughout the area to learn, grow, lead and PLAY!
MUSICAL CHAIR SPONSORSHIP: If you'd like to sponsor your musician please click HERE. The sponsor's name will appear under the student's name in the program, just like in professional orchestras. It's a great way for family members and friends to show their support!
There may still be spaces for advanced orchestra students. For more information, please call 541-484-0473, or email office@esyorchestras.org.
ABOUT YS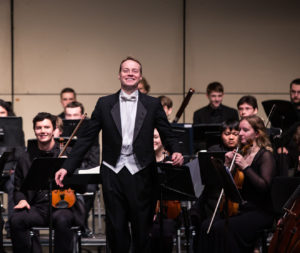 We proudly welcomed Dr. David Jacobs as conductor of the Youth Symphony in the spring of 2016. He brings a tremendous background of professionalism and musicianship to the orchestra. Dr. Jacobs also serves as Director of Orchestral Studies at the University of Oregon. We are thrilled that he is part of the ESYO family! For more about Dr. Jacobs, click here.
CONGRATULATIONS on your Final Season Concerts!