Welcome to the 87th Season of the second oldest youth orchestra west of the Mississippi
The Youth Symphony (YS) began as the Junior Symphony in 1934. YS presents some of the greater Eugene/Springfield area's finest student musicians in exciting concerts featuring outstanding soloists and demanding orchestral music. For information, please call 541-484-0473, or email office@esyorchestras.org.
Our online program was met with wonderful enthusiasm from conductors and students alike. Conductor Dr. Jacobs created an online musical experience appropriately suited for the outstanding members of the Youth Symphony. Professional coaches worked with smaller groups, sharing their musical knowledge with students. The fine youth musicians quickly adapted to the online platform, readily performing for each other, and inspiring us all with their playing.  
Next year we hope and plan to be back in person – and you can be a part of it! Click here to find out about auditions for our 88th Season!
CONGRATULATIONS on your Season Concerts!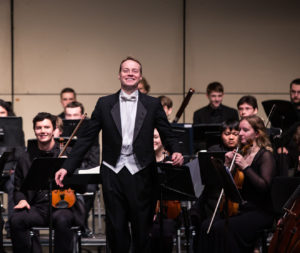 We proudly welcomed Dr. David Jacobs as conductor of the Youth Symphony in the spring of 2016. He brings a tremendous background of professionalism and musicianship to the orchestra. Dr. Jacobs also serves as Director of Orchestral Studies at the University of Oregon. We are thrilled that he is part of the ESYO family! For more about Dr. Jacobs, click here.
YS rehearsals are held Monday evenings from 6:45-9pm. The program fee is $445 for the year, with several payment options and scholarships available. Be sure to check the google calendar below for rehearsal and concert updates.
MUSICAL CHAIR SPONSORSHIP: If you'd like to sponsor your musician please click HERE. The sponsor's name will appear under the student's name in the program, just like in professional orchestras. It's a great way for family members and friends to show their support!
Reporting Absences to Your Registrar: All absences and tardies must be reported by a parent or guardian by emailing ysregistrar@esyorchestras.org. Please do not call the office or the message may not get through to the registrar. Students are expected to arrive 10-15 minutes early so they are ready to begin at 6:45 sharp. One week notice is required for absences.