Read about other past events, like the 85th Anniversary Orchestra Reunion, HERE! See more photos & stay up-to-date on future events by joining our Alumni Facebook group!
2022 Alumni Summer Social
Our alumni returned for the first in-person event we'd been able to hold for several years! We got to hear excellent performances from current ESYO students and alumni. Guests enjoyed the beautiful grounds of Inge Tarantola's home, delicious food and drink donated from local Eugene businesses, and the unique, wonderful opportunity to reconnect with old friends.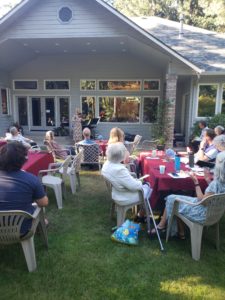 Update Your Information
It's probably been a while since you lived at your parents' address, and we're guessing you've gone on to do exciting things since graduating — Please fill out this form to share your memories of ESYO, let us know where you've been since graduation, and start receiving exclusive invitations to ESYO alumni events!
Alumni Facebook Group
Join our Alumni Group on Facebook to stay updated on alumni anniversary events, concerts, and more!