ESYO's Ambassador Musician Program (AMP), encourages older members of the orchestras to become ambassadors and advocates for music education and performance, and mentors for younger students! AMP was a tremendous success in its debut year, and continues to provide opportunities for young musicians to share their love of music with our community. We are excited about the continued growth of this program! As Ambassador Musicians, ESYO students have opportunities to:
Rehearse and learn chamber music with professional musicians and coaches
Mentor beginning strings students in our String Academy program for 4th and 5th graders
Work one-on-one with young musicians in our younger ensembles
Bring youth music out to the community through small group performances at local events
Represent ESYO and music education through appearances or performances.
If you are interested in having an AMP performance at your event, please send an email with your name, date, time and location of event, and any other information that would be helpful to: office@esyorchestras.org.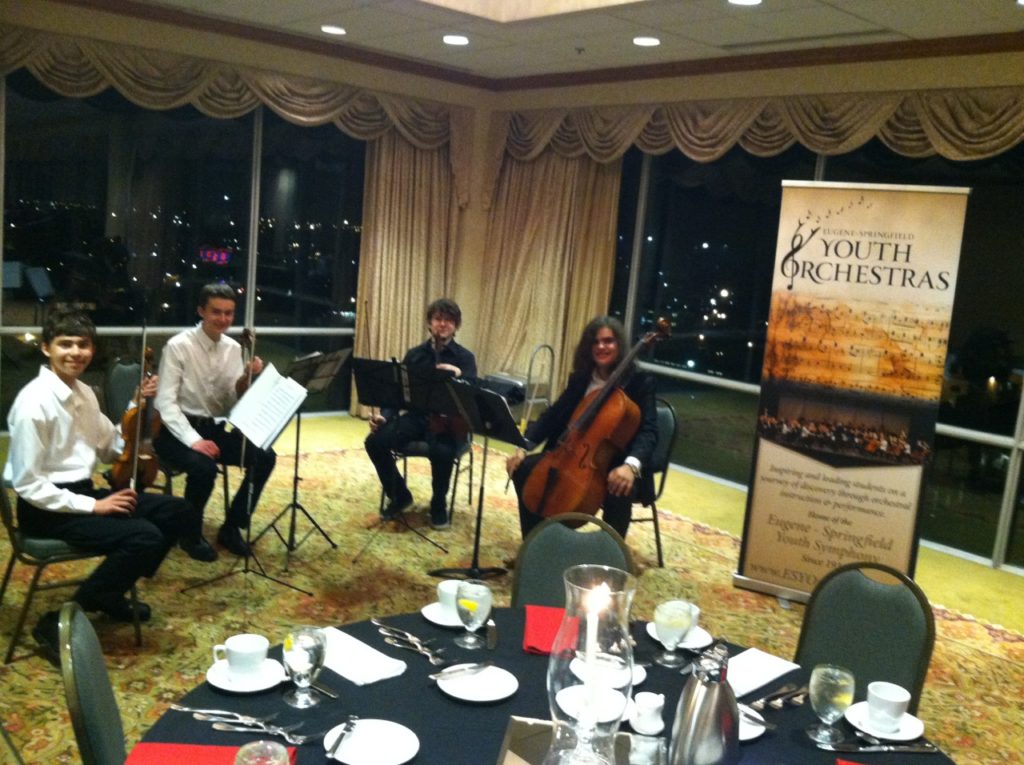 AMP Quartet performs at the Round Table Club of Eugene
ESYO Ambassador Musicians play an important role in advocating for music education while sharing their music with our community – a great combination that benefits everyone!
Mentoring String Academy 1 musicians:
Beginning string players need and appreciate the encouragement of older students who understand what they are learning and doing. Peer mentoring can often make a huge difference in the young student's experience. AMP musicians find this an extremely rewarding experience as well. They help with tuning instruments and assist the instructor by keeping students engaged and focused.
Mentoring Little Symphony and String Academy 2 musicians:
Young musicians benefit greatly from one-on-one instruction and small group sectionals. This can be very effective in skill and confidence building. AMP students attend younger orchestra rehearsals and work with conductors to provide individual or small group mentoring.
Community Outreach: Through performances at community events, our musicians can be ambassadors for ESYO and experience the joy of chamber music! They are highly sought after to bring their beautiful playing to enhance any event. In the 2019-2020 Season, AMP musicians volunteered and performed for many different local events. Their performances ranged from retirement communities and children's service organizations to donor receptions and community meetings. AMP mentors were also on hand to help our youngest musicians in String Academy classes and orchestra rehearsals.
AMP hours are also counted as community service hours for high school students. Members of Youth Symphony or Junior Orchestra can get involved with AMP by signing up on their registration, or by contacting the office.
Previous AMP Performances
FEBRUARY 26, 2020: On behalf of everyone at Relief Nursery, I would like to thank you for sharing your music with the children…[they] were able to experience something new and delight in the music with you all. We are so grateful to have Eugene-Springfield Youth Orchestras as a community partner.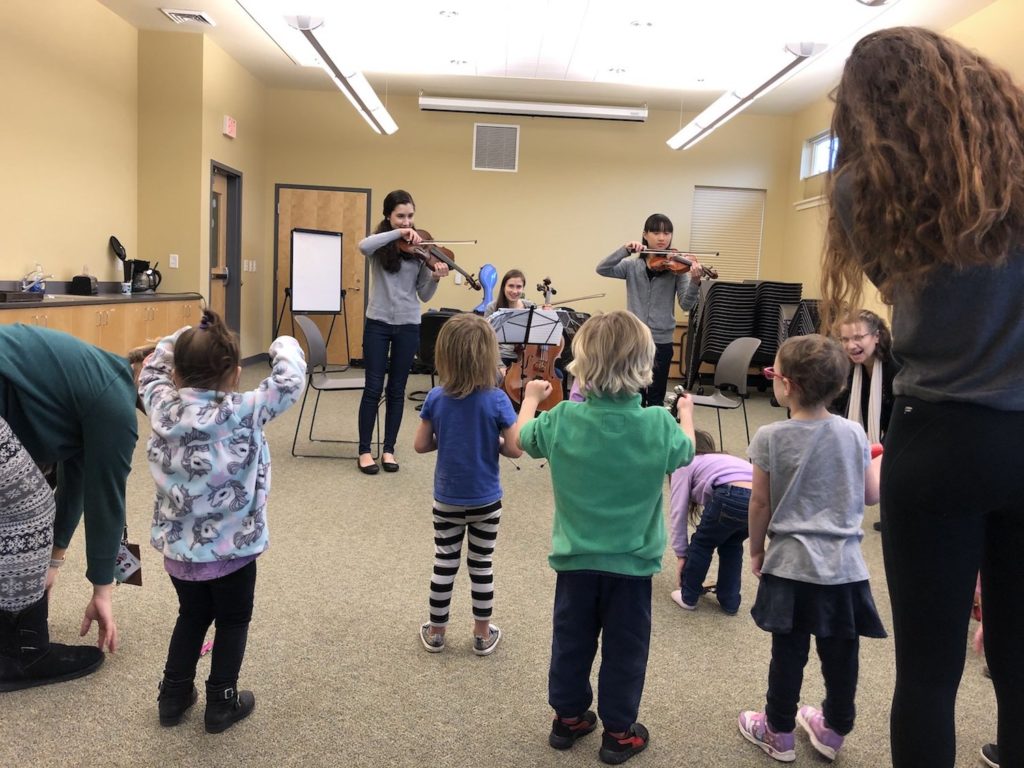 JUNE 28, 2017: The quality of their playing and evident musicianship was superb. From Tchaikovsky to the Beatles, they played different styles and periods of music, and if one hadn't been watching, would have thought them professionals. The guests at the garden at this time were spellbound. They are a credit to their music teachers, the EYSO and their families. They were great ambassadors for the ESYO, and I hope to be able to hear them again. I only wish all students had the opportunity to learn the power of music.
AMP Atrium Performance 6/04/16 – click here for photos
"I went to the Atrium today to hear the ESYO AMP Quartet play. They were delightful."
AMP performs with Oregon Children's Choral Festival 04/19/16 – click here for video!
"They did a great job and I hope it was really fun for them too." – Bruce Searle of the Oregon Children's Choir
AMP adds to Eugene Symphony Garden Tour 6/12/16 – click here for video!
"Thank you for playing in the garden of Jim and Dyane Malmgren for our Music in the Garden benefit for the Eugene Symphony. Your lovely music greatly enhanced the beauty of that garden. Patrons passing through the garden and the Liaisons, Bonnie and Inga, said they really enjoyed listening to you. Thank you so much…they conducted themselves as professional musicians."