Can you sponsor a deserving youth musician?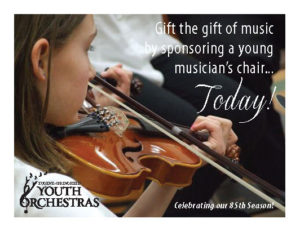 For just $75, your name will appear under theirs in the concert program – just like in a professional symphony. Or, you can sponsor an instrument or a whole section!
Stars denote sponsored chairs, like in this previous year's poster. The poster is  displayed at concerts, on FB, and other ESYO events! As a sponsor, your name will be listed in the concert program under your musician's name. Plus you get a FREE ticket to any ESYO concert! Concert Schedule

Purchase your musical chairs online today or call 541-484-0473 or send a check to ESYO, PO Box 5666, Eugene, OR 97405.
THANK YOU FOR YOUR SUPPORT!